EQUUS 175N The best forestry tractor made in Slovakia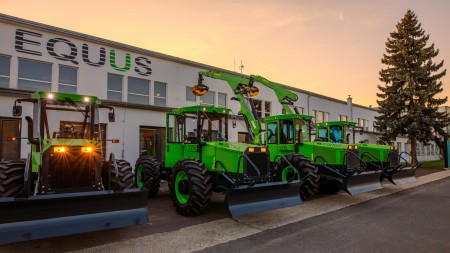 Meet the most efficient forestry skidder in its category, EQUUS 175N! Its main attributes are robustness and high working efficiency together with its rate of return. The machine is easy to operate and complies with the most demanding criteria of today's customers. It is equipped with a state-of-the-art hydrostat and a perfect cooling system. This high-perform forestry machine is capable of driving on roads to distances exceeding 100 km in a speed of 40 km/h. The lowest centre of gravity in its class makes this machine a perfect choice for work in the most demanding terrain.
We are among the first manufacturers who use the state-of-the-art STAGE V class combustion engines. We have increased the transmission efficiency and improved the logic of the entire skidder, resulting in an overall savings of 20–30 % of fuel per 1 cubic meter of timber produced. This means savings in terms of fuel and lower emissions, as well as longer service life, and better price/performance ratio. Last but not least, it means a higher profit per one cubic meter and therefore the highest added value for the user!
Do you need a machine that can handle, cut and transport timber in bulk, in demanding terrain and in short periods of time? Select your version from our offer of EQUUS 175N skidders. Create own specification based on your needs and equip your dream machine with the accessories you need! ツ
Latest events and exhibitions:
Najnovšie akcie a výstavy
EQUUS tractors were presented at the Demo Forest exhibition in Libramont (Belgium) by partner Clohse Group

Presentation of EQUUS forest tractors at the DLG Waldtage exhibition (Germany - Lichtenau) from 9 to 11 September 2022.

From 16 to 17.9. in Oslo, Norway, a forest exhibition will be held with the presentation of EQUUS forest tractors.
NEW GENERATION EQUUS 2020 - changes and news
New engine CUMMINS with STAGE V - currently the highest ecological standard with manufacturer's certificate. 10% higher performance.

Higher cabin with a better view of the crane, since new window was installed. Lower noise level (better insulation)

New air conditioning system (from Webasto) New windows (smoked and safety glass) that reflect 20% more sun rays.

New hydraulics - locking against slow falling of the hydraulic components, ETL control of the pumps

Electronically powered swivel seat / work place

New display - for hydraulics. 8 x function for hydraulic components, 4 x function operator. New joysticks and keyboard for operating the hydraulics. New display for the engine.

Rear shield with a higher lift (1500 mm)

Winch with up to 15T per drum and up to 2x160 m steel rope with a diameter of 14 mm

NAF 17t axles, which are standard for higher classes - 6-cylinder engines.

Low center of gravity of the machine

Larger radiator with a cooling capacity of the engine at outside temperatures above 50 ° C.
EQUUS 175 N forestry tractor and its features:
Forestry tractor EQUUS 175N - 
it is reliability, simplicity and affordable price.

Can you imagine a reliable, easy-to-use forestry tractor having no unnecessary electronic components that complies with the current demanding criteria?

Robustness, economy and reliability are the attributes for the  forestry wheeled tractor EQUUS 175 .