EQUUS 175N forestry tractor production program
Offer of EQUUS forestry tractors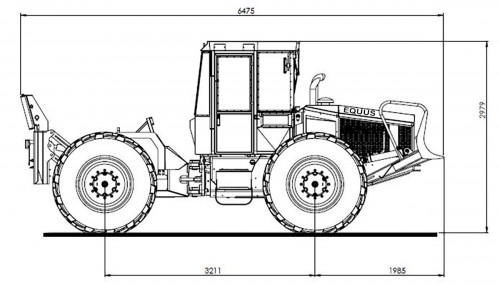 Do you need a machine that can handle, cut and transport timber in bulk and in short periods of time? Meet the most efficient forestry skidder in its category, EQUUS 175N! Its main attributes are robustness and high working efficiency together with its rate of return. The skidder is easy to operate and complies with the most demanding criteria of today's customers. It is equipped with a state-of-the-art hydrostat and a perfect cooling system. This heavy duty forestry machine is capable of driving on roads to distances exceeding 100 km in a speed of 40 km per hour. The lowest centre of gravity in its class makes this machine a perfect choice for work in the most demanding terrain.
We are among the first manufacturers who use the state-of-the-art CUMMINS STAGE V class combustion engines. We have increased the transmission efficiency and improved the logic of the entire machine, resulting in an overall savings of 20–30 % of fuel per 1 cubic meter of timber. This means not only fuel savings and a reduction in emissions, but also a longer service life, better price/performance ratio, higher profit per 1 cubic meter and therefore the highest added value for the user.
Service Life
EQUUS 175 wheeled forestry skidder is characterized by robustness, economy and reliability. The frame is made of high-strength high-quality steel, which guarantees a long service life and a low weight of the machine, together with a low fuel consumption. The cabin meets the strictest safety parameters of protection against roll-over and breakage (ROPS, FOPS, OPS). Axles made by a renowned German manufacturer are oversized for much higher loads than commonly used axles. The combination of proprietary hydrostatic transmission and cooling guarantees a consistently high performance over a long period. We recommend to use additional equipment by renowned and proven suppliers.
Repairs and Maintenance
EQUUS 175N forestry skidder is characterized by reliability, simplicity and affordable price. These are the criteria we have set when designing the EQUUS forestry machine. We have avoided complicated control units. Engine error readers, however, allow for accurate and fast diagnostics of the engine and hydrostat. Hydraulic cylinders are dimensionally identical, which enables their quick and inexpensive replacement on the entire skidder. The engine part, working hydraulics and all other components are mounted in the frame structure in a manner allowing an easy access and quick and cheapest possible repairs. Conditions for both warranty and post-warranty repairs are set up affordably – we provide the most optimum conditions while maintaining the highest possible warranty. Our dedicated service team will always be glad to help you..