EQUUS 175N 6WDC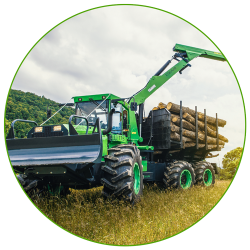 First 6-wheel vehicle model of EQUUS offers combined utilization. Except loading and carrying out of timber bulk, there is also a possibility for the customers to buy harvester head. Therefore it's possible to produce, load and transporttimber with one machine at the same time. The lowest centre of gravity predetermines it for work in most challenging terrains. . Weight of skidder begins at 17.240 kg.
Basic specification:
Length: 8925 mm
Width: 2635 mm
Height: 3510 mm to stanchion, 3440 mm to hydraulic arm
Ground clearance: 560 mm
Weight: 17.240 kg
Picture of EQUUS 175N 6WDC
Photos of EQUUS 175N 6WDC
Technical specifications of the EQUUS 175N 6WDC
Motor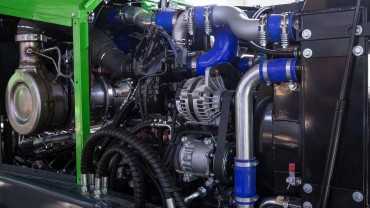 As one of the first forestry skidder manufacturers, EQUUS has installed the most advanced CUMMINS B45 engine that meets the requirements of the most demanding STAGE V emission class. With the power of 175 hp and the torque of 780 Nm, this direct-injection 4-cylinder engine delivers a performance comparable to larger and more expensive 6-cylinder engines, while being lighter, safer and more environmentally friendly.
Type: CUMMINS B45
Power: 129 kW @ 2200 rpm – 780 Nm @ 1500 rpm Stage V.
At the moment the highest environmental standards and with certificates from producer of combustion engine.
Specifications: diesel, 4-stroke with direct fuel injection (Electronic Common Rail)
Nr.of cylinders: 4
Volume of cylinders: 4,5L
Fuel cleaning: water separator, fuel filter
Lubrication: pressurized, circulating with wet oil pan and oil filter
Cooling: coolant circulation through the water pump, termoregulator's valve


Gearbox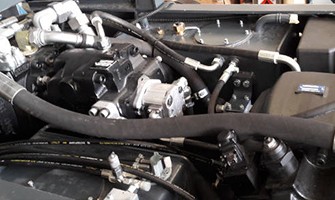 We have used a hydraulic motor concept with enlarged volume of 300 ccm and 45° swinging plate. The higher volume of the hydraulic motor decreases its maximum speed, the swinging plate increases its effectiveness. The 1st gear is suitable for the speed of 0–13 km per hour and for dragging at optimum engine speed, which is the most important contribution to transmission efficiency. The 2nd gear allows the skidder to travel easily over long distances without stopping at the speed of up to 32 km per hour. Hydraulics and certificate are both supplied by DANFOSS company.
Gearbox: Hydrostatic transmission with 3 automatic modes and 2 mechanical transmissions (turtle/rabbit) in a timing case, maximum speed of 32 km per hour forwards and backwards. The timing case allows for the disconnection of the rear axle 4x4 / 4x2.
Characteristics: The hydrostat is a low‑rpm and low‑pressure system. By increasing the volume of the hydraulic motor and decreasing the volume of the transmission, we achieved the optimum efficiency. With our skidder, you will be able to use roads without any fears of engine or hydraulic system overheating, with the speed of up to 32 km per hour! The behaviour of the hydrostatic transmission does not differ from a standard transmission – it
does not slow down under load.
Cabin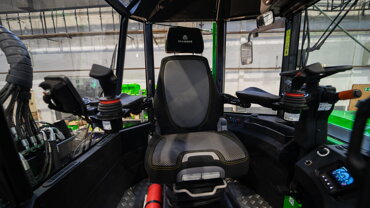 The cabin, which is an in-house production by EQUUS, offers the highest safety parameters. Not only does it meet the basic limits of the OPS, FOPS and ROPS standards, it even exceeds them. The cabin's position is as low as possible. It thus offers the most convenient way to get in and out of the cabin. Lighting is intelligently installed inside the body and therefore it allows, together with the use of high-quality glass, to eliminate the use of grille protectors. They might be fitted, however, if a customer requests so. The cabin has two doors and therefore it offers the possibility to mount on the machine from both sides. The rear view is improved – there is a new glass panel in the roof of the cabin for better view when working with the hydraulic arm.
Characterictics: EQUUS (FOPS, ROPS, OPS) tilting safety cabin is equipped with Plastrans safety glass (with certificate A/M), suspension, two doors and a 315° rotating workstation (seat). The cabin complies with the strictest safety standards requiring the resistance of the cab to roll-over and breakage.
Equipment: Controlling – steering wheel with 2 joystics, Radio MP3/USB, electricity 24V, 4 working lights, heating and the sun visor. Grammer seat- pneumatically suspended, safety glasses, 8x working lights LED, frame locking. Air conditioning and other equipments - for order, see bellow in Additional equipment.
Axles
Type: NAF
Front
Specification: 17 t, rigid, wet lamellar brakes and two-wheel handbrake with 100 % axle lock, 23.1 - 26 ALLIANCE FOREST
Rear
Specification: 27 t, BOOGIE NAF with four-wheel and with 100 % axle lock, ALLIANCE 600/55 - 26.5 20PR 172A2/165A8 TL FORESTAR 344
Frame
Material and design: high-strength steel 700 N/mm2
Range of axial bearing: 15°
Vertical pins: 43°
Winch
Winch with spur gear in the gearbox offers 2 drums with large rope capacity.
In the standard version we offer a pulling force of 2 x 11 t.
Speed: two-stage 1.35 m / s - 0.65 m / s
Rope capacity: 2x 140 m, Ø14 mm
Hydraulic system
Working pump: 130 cm3 / 350 bar ( 286l@2200)
Pressure: max. Pressure 220 bar for all hydraulic components (except PTO)
Oil volume: 110 l tank + components
Hydraulic arm
As standard, we offer EQUUS 120 arm with the length of 9,5 m to our customers. The arm offers an above-standard lifting torque of 120 kN. The hydraulic arm can be folded in a horizontal position which allows an easy transport of EQUUS 175N UN wheeled machine using an ordinary truck. The robust construction allows for trouble-free handling of timber, not only its loading but also dragging.

As standard, we provide our customers with 035 version grapple manufactured by Gripen. With an area of 0.35 m2 and the maximum opening of 1880 mm, it offers an permissible load of up to 5000 kg. All this comes with the weight of 255 kg only.
Superstructure stanchion: Superstructure with four stanchions (three removables), loading capacity
Clambunk: Nominal load capacity 1,6 m2
Front blade: width 2200 mm
Rear struts: width 2200 mm