Forestry tractor EQUUS 175N
Added 10.10.2018 10:00.00
Potrebujete traktor, ktorý dokáže manipulovať, píliť a prepravovať drevnú hmotu vo veľkých objemoch a v krátkych časových úsekoch? Predstavujeme Vám lesný traktor EQUUS 175N, ktorého hlavnými atribútmi sú robustnosť, šetrnosť a spoľahlivosť.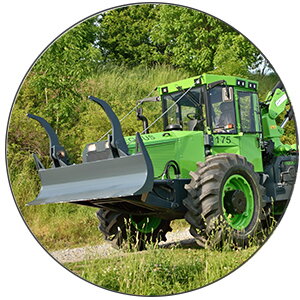 Traktor s jednoduchou obsluhou bez zbytočných elektronických komponentov, ktorý spĺňa náročné súčasné kritériá, vybavený najmodernejším hydrostatom s perfektne zvládnutým chladením umožňuje kombináciu vysokovýkonného lesného stroja s možnosťou presunu po cestných komunikáciách rýchlosťou 40 km/h do vzdialenosti viac ako 100 km!
Service Life
EQUUS 175 wheeled forestry tractor is characterized by robustness, economy and reliability.
The frame is made of high-strength high-quality steel, which guarantees a long service life and a low weight of the tractor, together with a low fuel consumption. The cabin meets the strictest safety parameters of protection against roll-over and breakage (ROPS, FOPS, OPS). Axles made by the renowned German manufacturer are oversized for much higher loads than commonly used axles. The combination of proprietary hydrostatic transmission and cooling guarantees a consistently high performance over a long period.
We recommend to use additional equipment by renowned and proven suppliers.
Maintenance
EQUUS 175N forestry tractor is characterized by reliability, simplicity and affordable price. These are the criteria we have set when designing the EQUUS forestry tractor. We have avoided complicated control units. Engine error readers, however, allow for accurate and fast diagnostics of the engine and hydrostat. Hydraulic cylinders are dimensionally identical, which enables their quick and inexpensive replacement on the entire tractor. The engine part, working hydraulics and all other components are mounted in the frame structure in a manner allowing a trouble-free access and quick and cheapest possible repairs. Conditions for both warranty and post-warranty repairs are set up affordably– we provide the most optimum conditions while maintaining the highest possible warranty. Our dedicated service team will always be glad to help you.
Vyberte si z ponuky technických prevedení (štandard, hydr.ruka, drapák, drapák s pílou, harvester, výstupný hriadeľ, PTO...), doplňte si traktor želanou výbavou a vysnívaný traktor je tu pre Vás!